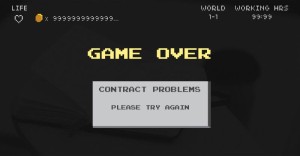 Home-field advantage is important – just ask the Patriots and 49ers who will be sitting on the beach in front of their seaside vacation villas on some Caribbean island when we are all watching the Super Bowl, many of us in our houses protecting us from the freezing cold.  Was that bitter?
Everyone remembers the clashes we had when we were kids, when you wanted to play at your house, but your friend wanted to play at his or her house.  You weren't being selfish – because you honestly felt that your Nintendo was better than their Atari – for those of you who don't know what an Atari is, just substitute with PS4 or Xbox Live – everyone has their favorite.  Of course, your friend felt the exact opposite and believed their games, backyard and snacks were better than yours.  Fortunately, kids have a way of working things out.  But businesses need contracts, and yes, lawyers.
How Contracts Initially Set the Forum ("Backyard") in Which You Play
In contracts between business – or even most consumer contracts for products or services – there is undoubtedly a provision that attempts to govern in "whose backyard" a dispute will be heard if there is a lawsuit brought about the contract.  Despite these provisions, a party will sometimes try to bring the lawsuit in their own backyard, as opposed to the backyard of the other party – even if that is contrary to what the contract provides.  In other words, "I want to play Madden'14 on my PS4 and not his Xbox Live."
If the parties to a contract dispute choose the backyard, or forum, that is provided for in the contract, there is no issue.  (Sure, I'll play Madden'14 at your house because we both have PS4s).  However, when a party to a contract dispute chooses the forum that is not provided for in the contract, the courts have to decide in whose backyard the case should be decided.  In other words, "I want to play Madden'14 at my house because I have a PS4 and you have Xbox Live" – playing at your house would give you an advantage.
How to Possibly Change the Home Field Advantage for Your Dispute
To decide this issue, the courts often employ a set of factors that are analyzed and balanced to determine whether the forum chosen by the party should keep jurisdiction over the case, or whether the case should be transferred to the court set forth in the contract.  The factors to be balanced include, among others, financial wherewithal of the parties, location of witnesses and documents, which state has a greater interest in the decision, and which state's law will be applied.
In December 2013, the United States Supreme Court issued a decision that involved technical procedural aspects of what statutory provision should be used to assert a forum selection clause.  [Atlantic Marine Construction Co., Inc. v. U.S. District Court for the Western District of Texas, et al., 571 U.S. 104 S. Ct. 568 (December 3, 2013)].  Also in this decision, the Supreme Court ruled that if a defendant seeks to enforce a valid contractual forum selection clause – attempting to move the case back to "his house" so to speak, the clause should ordinarily be enforced, unless the plaintiff had extraordinary circumstances for filing the case where it did, the extraordinary circumstances being unrelated to the convenience of the parties.  There are still questions to be answered – for one, the Atlantic Marine case involved two experienced commercial parties – does this case also apply to consumer cases?  Second, the decision only applies if there is a valid forum selection clause, so does the decision apply when a state statute invalidates certain forum selection clauses?  There will also be additional questions to be answered as well.
On thing is clear, however – when there are two experienced commercial parties, if the contract says the lawsuit is going to be in one party's backyard, you better be ready to play Madden'14 on either PS4 or Xbox Live.
The information above is general; we recommend that you consult with an attorney regarding your specific circumstances.  The content contained herein is not meant to be considered as legal advice or as a substitute for legal representation.