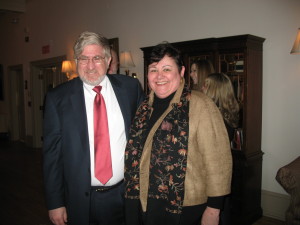 NORRISTOWN, Pa. (April 16, 2014) –Law firm High Swartz, together with Dunleavy & Associates, a project management firm for not-for-profit organizations, recently hosted a complimentary educational program for clients at the Montgomery Bar Association titled "Engaging Younger Generations as Donors, Volunteers and Employees."
Nancy Dunleavy, CEO, Dunleavy & Associates, who currently serves on four boards, led a panel of emerging professionals, all of whom are actively engaged in their communities, in a discussion of the attributes and behaviors of Millennials, also known as Gen Yers, the fastest growing population in today's multigenerational workplace. Panelists included:
–   Kat Armstrong, project manager, Dunleavy & Associates, and board member, Young Professionals Networks
–   Emily Coffin, development director, Byerschool Foundation
–   Festo Okidi, senior business partnership specialist at Philadelphia Youth Network, and vice chairman, Advisory Board of Directors, Young Professionals Networks (Greater Philadelphia Chamber of Commerce)
–   Lauren Hirshon, director, Research and Consulting at Fels Institute of Government, University of Pennsylvania, and board member, Young Professionals Networks
Participants learned how to identify and leverage the characteristics of these young professionals, and realign assumptions to best engage them, whether for business, philanthropy or community service.
Founded in 1914, High Swartz LLP is a general practice law firm with a rich history and tradition of excellence serving clients in Pennsylvania, Southern New Jersey, and the Mid-Atlantic.
# # #
PHOTO CAPTION: Pictured above are High Swartz Managing Partner Joel Rosen and CEO of Dunleavy & Associates Nancy Dunleavy.