July 7, 2015
By Kenneth R. Myers
The pipeline disaster on the California coast reinforces a fear some people have of underground pipelines.  In the Delaware Valley this concern is driven by expansive talk of an energy hub, centered on port facilities along the Delaware River, but including pipelines that would extend across country.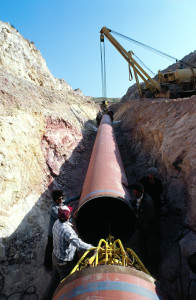 But how real are the fears?  Buried pipelines abound, with some of our townships hosting a half dozen high pressure gas and oil lines, in addition to the omnipresent local low pressure gas distribution facilities.  The Santa Barbara oil pipeline rupture attracted much attention largely because of the highly visible and environmentally high value location. Pipeline failures are actually few, and most incidents that occur result in no more than a local injury to the environment which can be repaired.  Very few pipeline incidents cause fatalities.
For an urban planner or engineer, risk  equals the likelihood of a failure multiplied by the magnitude of the damage.  We accept risks of at least one in a million daily in activities like driving to work.  About 12,000 accidents happen every year in Philadelphia – a large number for the size of the population who drive - but fewer than one in a hundred auto accidents results in a fatality. Pipeline accidents occur much less often than auto accidents, but the pipeline accident that people fear is a much more massive event than an auto collision.
Major energy projects usually require approval from the state Public Utility Commission or the local municipality, providing public input opportunities.  The law requires all public utility facilities to be safe for the public.  Nonetheless enforcing that standard can be very difficult.
Federal safety regulations cover our interstate oil and gas pipelines, while enforcement is left to the states.  In Pennsylvania enforcement is carried out primarily by the Public Utility Commission.  Cleanups after an accident are usually controlled by a third agency, the state Department of Environmental Protection.  This three-way split leaves much to be desired, with a buck that never seems to stop anywhere!
The facts about the Santa Barbara spill that have emerged suggest a major shortfall in safety practices of the pipeline as well as failure of enforcement by the government.
The pipelines and the state and federal government agencies could do a more consistent job of protecting health and the environment.
Public opposition to projects could help raise the safety bar (the author has just completed a case against a project that produced modestly stronger safety requirements).  Public input to individual cleanups could be effective too. Still, experience has shown us that the risk of moving oil by pipeline is smaller than the risk of moving it by rail or tanker truck.
As citizens that consume oil one way or another, we reap the benefits of efficient and safe transportation of oil. When the next project is proposed for your town speak up, but consider carefully what your message should be.
For more information feel free to contact Kenneth R. Myers at 610-275-0700 or by email at kmyers@highswartz.com.
The information above is general: we recommend that you consult an attorney regarding your specific circumstances.  The content of this information is not meant to be considered as legal advice or a substitute for legal representation.