February 3, 2016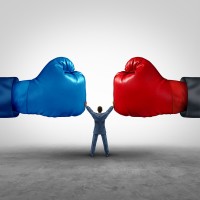 Most people know what litigation is, likely due to wisdom gleaned from television, if not from personal experience.  They probably also know that litigation is not something they want to be a part of if it can be avoided.  Litigation can be a long, expensive and demanding process as it's not usually easy to resolve a legal problem.  What's not so commonly known, is that there are alternative legal methods for resolving claims.
These alternatives may be better suited to resolving a specific issue and can prevent the headache and expense of litigation.  These techniques are collectively known as Alternative Dispute Resolution ("ADR") and while  there are many different types of ADR, by far the most popular methods are mediation and arbitration.
Mediation
Mediation fosters an environment so that the parties can discuss their position on the issues and work towards an amenable solution.  The mediator is more of a facilitator in the process rather than a decision maker, and instead of making legal conclusions as to the merits of either party's case, the mediator works with both parties to agree on a solution. Mediation is generally not binding until the parties put their agreement in writing and execute it.
Mediation is quickly increasing in popularity. One large draw towards mediation stems from the fact that it tends to be relatively quick and inexpensive.  Additionally, mediation may help to preserve a relationship, so it's especially beneficial in cases where the relationship between parties needs to continue after the dispute is resolved.
Arbitration
Arbitration is similar to litigation in that the parties have an opportunity to present their cases to a fact finder.  Like a traditional trial, the parties make opening statements and present evidence, albeit with modified rules and less formality.
Rather than present the case to a judge or jury, in arbitration the fact finder is either an individual or a panel of arbitrators. Because of the less formal nature of an arbitration, it can usually be completed more quickly than a trial, although generally it takes longer than a mediation.
The arbitrators listen to evidence presented and ultimately make a decision on the merits of the case.  Unlike mediation, the decision reached by an arbitrator is binding on the parties unless the parties agreed otherwise.
Arbitration is a good solution when parties are unlikely to come to a resolution on their own and an absolute answer is desired.  Similarly, for complicated cases, arbitrators can be selected based on their expertise in the particular area of the law, which provides faith in the way the matter will be resolved.
Choosing which type of alternate dispute resolution is right for your case depends on the factors at play including the type of dispute, contractual obligations, personality preferences, time, money, etc., but, understanding the options available to you is the first step toward the best possible resolution.
For more information feel free to contact us at (610) 275-0700 or by email at main@highswartz.com
The information above is general: we recommend that you consult an attorney regarding your specific circumstances.  The content of this information is not meant to be considered as legal advice or a substitute for legal representation