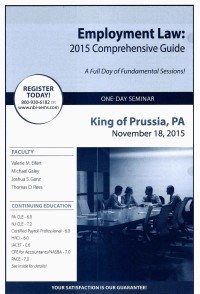 October 28, 2015
Thomas Rees will be presenting at the National Business Institute's Employment Law: 2015 Comprehensive Guide seminar. The seminar will discuss the human resource best practices to ensure employer compliance and mitigate potential liabilities. Mr. Rees will be speaking on the topics, "Understanding Legislative Changes: A Brief Overview" and "Monitoring Employees: Privacy Issues and Employer Risks."
Who Should Attend
Attorneys
HR personnel
Accountants
Presidents and Vice Presidents
Course Content
Understanding Legislative Changes: A Brief Overview
Drafting Must-Have Policies for Today's Handbooks
Avoiding Wage and Hour Violations
Managing Employee Leaves of Absence
Monitoring Employees: Privacy Issues and Employer Risks
Dealing with the Troubled/Troubling Employee
Utilizing Alternative Dispute Resolution Tactics in Employment Matters
This seminar is a continuing legal education course and offers the following CLE credit:
CLE: 7.20 – NJ, 6.00 –  PA
Certified Payroll Professionals: 6.00
Human Resource Certification Institute (HRCI): 6.00
International Association for Continuing Education Training (IACET): 0.60
National Association of State Boards of Accountancy: CPE for Accountants: 7.00 *
Professional Achievement in Continuing Education (PACE): 7.00 *
* denotes specialty credits
To learn more about the seminar or to register, click here.
THOMAS D. REES is a partner with High Swartz LLP and heads the firm's litigation and employment practice. He focuses his
practice primarily on employment law, where he represents employers in litigations over employment terminations; restrictive covenants, trade secrets, and other employee mobility issues; employment discrimination and sexual harassment matters; employment contract disputes; and defamation and privacy related matters. Mr. Rees also serves employers in a wide variety of non-litigation matters, including contract negotiation, preparation of policies and procedures, and hiring and termination. These services help employers to avoid and resolve disputes without resorting to the courtroom. Mr. Rees is a frequent presenter on employment law matters to various professional groups. He is a member of the Montgomery Bar Association (past chair and co-chair of the Employment Law Committee; Employment Law course planner and lecturer; past chair of the Real Estate and Land Use Planning Committee), the Pennsylvania Bar Association (past chair of the Municipal Law Section), and the Pennsylvania Bar Institute (Employment Law course planner and lecturer). Mr. Rees earned his A.B. degree, with honors, from Stanford University and his J.D. degree from the University of Pennsylvania Law School.
Date: November 18, 2015
Time: 9:00 a.m. – 4:30 p.m.
Location: Homewood Suites by Hilton Philadelphia-Valley Forge
681 Shannondell Boulevard
Audubon, PA 19403