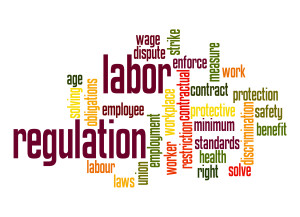 December 7, 2015
The United States Supreme Court will examine and decide dozens of interesting and impactful cases in its 2015-2016 Term.  The Court will hear cases around voting rights, water rights, affirmative action, the contraceptive mandate under the Affordable Care Act and First and Fourth Amendment rights.  Also, as is typical, the Court will decide a handful of cases involving employment and labor law that are worth keeping a watchful eye on:
Constructive Discharge – Green v. Brennan
For an employer to be held liable for employment discrimination, harassment or retaliation the employer must have taken an adverse job action against the employee.  An adverse job action can be a demotion, suspension without pay or termination.  In general, an employee that voluntarily resigns employment has not suffered an adverse job action and therefore cannot bring a claim for employment discrimination, harassment or retaliation.  However, if an employee voluntarily resigned because his or her working conditions were so intolerable that a reasonable person would be compelled to resign, rather than continue employment, that employee is constructively discharged and has suffered an adverse employment action.
In Green v. Brennan, a postal service employee brought several employment claims against the United States Postal Service, including a constructive discharge claim.  For federal employees, claims of discrimination must be brought within 45 days, as opposed to 180 or 300 days for non-federal employees.  The Tenth Circuit Court of Appeals entered judgment against the postal service employee on his constructive discharge claim, because the last act of alleged discrimination by the Post Office occurred more than 45 days before the postal employee brought his claim.  However, the postal employee argues that his complaint was made within 45 days of his constructive discharge.
The issue in Green v. Brennan is when the statute of limitations begins to run on a constructive discharge claim.  Does the statute of limitations begin to run when the employee resigns, which five Federal Circuit Courts have held, or at the time of the employer's last discriminatory act giving rise to the resignation, as three Federal Circuit Courts have held.  The Supreme Court will resolve this split in authority.
Class Action under the FLSA – Tyson Foods, Inc. v. Bouaphakeo
Under the Fair Labor Standards Act, which provides minimum wage and overtime protections, an employee who brings a claim, may also bring a collective action or a class action to assert and protect the rights of other employees.  Typically in collective and class actions, the plaintiff and the class members have to be similar in position, which is judged by position title and position responsibilities.
The Tyson Foods v. Bouaphakeo case will answer two questions related to collective and class actions under the FLSA: first, whether differences among individual class members may be ignored, where liability and damages will be proven by statistics that presume all class members are identical to an average observed in a sample, and second, whether a class or collective action can be certified or maintained when the class contains hundreds of members who were not injured and have no legal right to any damages.
Often, FLSA actions, like consumer fraud cases, concern nominal damages to the plaintiff, but involve ten of thousands of dollars in attorney's fees which are recoverable under the FLSA.  The questions to be answered by the Supreme Court in this case go to the heart of whether plaintiffs' attorneys can recover significant attorney's fees for litigating cases that have little to no damages.
Right to Work and Public-Sector Agency Shop – Friedrichs v. California Teachers Association
When an employer and union collectively agree to an "agency shop" both members and non-members of the union that are covered by the collective bargaining agreement are required to pay a fee to the union.  The stated reason is that everyone must pay their "share" of the union's expenses, since the union is legally required to represent both members and non-members.
In 1977, the Supreme Court in a compromise decision, upheld agency shops in the public sector, e.g., teachers.  What makes public sector agency shops a trickier Constitutional issue than private sector agency shops, is that with public sector agency shops First Amendment considerations are at issue.  More specifically, is the government controlling speech if it requires a non-union member to pay fees to the union and is a public sector agency shop therefore unconstitutional?
In Friedrichs v. California Teachers Association the Supreme Court will likely answer that question.  If the answer is to hold public sector agency shops unconstitutional it result in the further eroding of union membership and union influence in the country's workplaces and politics.
Politics and the Public Employee – Heffernan v. City of Paterson
In Hefferman v. City of Paterson, a police officer was demoted after being observed obtaining a local political candidate's sign for his mother.  The police officer brought an action under Section 1983 alleging that the City of Paterson retaliated against him in violation of his First Amendment rights.  A majority of the police officer's claims were rejected because he stated under oath that he was obtaining the sign for his mother and therefore was not exercising his First Amendment rights.
The issue before the Supreme Court is whether a government official's perception (although mistaken) that the police officer was exercising his First Amendment rights is sufficient to maintain a Section 1983 claim.
For more information, feel free to contact James B. Shrimp via email jshrimp@highswartz.com
The information above is general: we recommend that you consult an attorney regarding your specific circumstances.  The content of this information is not meant to be considered as legal advice or a substitute for legal representation.