High Swartz owns a long-standing tradition. The law firm's history dates back to 1914 when it opened its first office in Norristown, PA.
Evans, High, Dettra, and Swartz started with a proclamation of sorts in the newspaper of record. The following announcement appeared in the Norristown Times Herald, Nov. 30, 1914:
New Law Firm Formed

Composed of Montgomery Evans, Samuel H. High, John M. Dettra and
Aaron S. Swartz, Jr.

"This announcement is made in the advertising columns of the
Herald, where also is announced the dissolution of the partnership
heretofore existing between John Faber Miller and Mr. High.

The dissolution became necessary when Mr. Miller yesterday assumed the
office of Judge of the Court of Common Pleas of Montgomery County.

"Messrs. Evans and Dettra have long been associated in the law
business and Mr. Swartz who is the son of Aaron S. Swartz, President
Judge of the Court of Common Pleas, has had an office with this firm but until now was not a member thereof.

"The new law firm will have its offices in the Miller Building, Nos. 329-333 DeKalb Street."
The history of High Swartz legal services is told through the names of those who founded the law firm and those who have passed through its doors during the past century.
Samuel H. High Sr., Montgomery Evans, John M. Dettra, and Aaron Swartz Jr. were the patriarchs of the legal services. They formed a bond 100 years ago, and that bond is still strong today.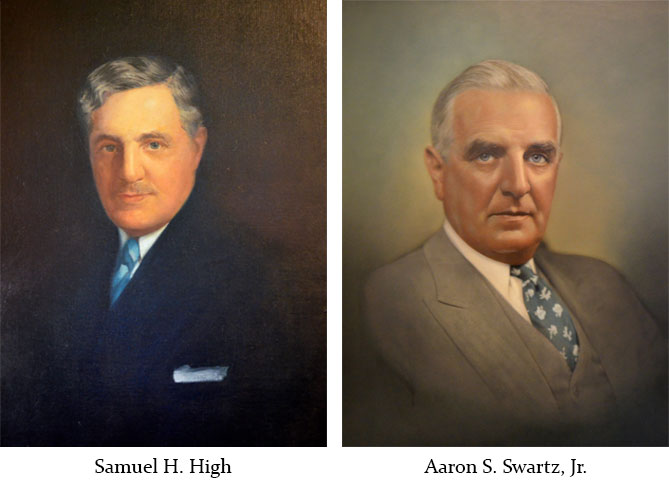 "My grandfather, Samuel H. High, as a relatively young attorney, was practicing with John Faber Miller in 1914," recalls Gilbert High Jr. "Miller was appointed to the bench that year, and Montgomery Evans, John Dettra, and my grandfather joined in a partnership, Evans, High, Dettra and Aaron Swartz, Jr., a young lawyer who came into the firm and became named partner.
"From the beginning, the firm was quite successful. Granddad was a generalist. He was a litigator and did municipal work. He represented a bank doing their estate work - the old Jenkintown Trust Company."
"My grandfather would have been about 36 when the firm was formed," Gilbert High Jr. continued. "He died in 1945 at 67. He had a farm in Horsham, and his regular house was in Jenkintown. My grandfather worked five nights a week in an evening office in Jenkintown and was in Norristown during the day. He did entirely civil work. John Dettra did almost entirely estate work."
High Swartz Offices: Relocation and Expansion
The legal services of High Swartz have evolved over the years along with the local firm. Evans, High, Dettra & Swartz started out on DeKalb Street in what was known as the Miller Building at the turn of the century, and moving on into the 21st Century, High Swartz can be found a short walk away on East Airy Street.
An announcement appeared in The Norristown Times Herald on July 1, 1935, when the legal service moved into what is now its home at 40 E. Airy St.
New Building Opened Today By Legal Firm
Air Conditioning Among Features of Offices Occupied By High, Dettra and Swartz One of the most modern buildings in Montgomery County was opened this morning at 40 East Airy Street by the law firm of  High, Dettra and Swartz.
Air conditioning is one of the features of the new building. The two story building is styled after colonial architecture with draperies, pictures and furniture carrying out the theme.
The front door opens into a large and spacious reception lobby in which stands an antique grandfather's clock. The corridors are covered with a black and white rubberized linoleum.
There are three offices on the first floor and three on the second. Each office is exquisitely furnished with a brown color scheme. The walls are finished with knotty pine wood.
In the front of the building on the second floor is a large, rectangular law library with more than 2,000 legal volumes. The library is furnished with overstuffed chairs and a long conference table.
Attorney Samuel H. High Sr., Attorney Aaron S. Swartz (Jr.), Attorney John M. Dettra, Attorney Louis M. Childs, and Attorney Samuel H. High Jr occupied the law offices.

Milestone Cases in the Firm's History
Set forth below, in chronological order, are a few of the principal reported cases in which High Swartz Firm lawyers have been counsel of record. These cases either were precedential or addressed broad or recurring issues.

Real Estate Tax Exemption Rules for Private Schools - 1949

To qualify for exemption from real estate taxes, an independent school must be a "purely public charity". To be a purely public charity, the school must relieve government of some of the burden of providing a free education. In 1949, the Pennsylvania Supreme Court denied public charity status to a private school whose revenue covered its expenses and which provided financial aid to only 10% of its student body. The court's decision discusses many earlier Pennsylvania private college and school tax exemption cases. In re Ogontz School (Gilbert High, Sr.)

Barnes Foundation Cases - 1953

Access to the Barnes Foundation galleries has long been a controversial issue. The law firm represented the Barnes in 1953, when the Pennsylvania Supreme Court dismissed a newspaper reporter's challenge to limits on gallery access in Wiegand v. Barnes Foundation. In 1960, in Commonwealth v. Barnes Foundation, the state Supreme Court allowed the Pennsylvania Attorney General to seek greater access. Victor Roberts handled both cases. Gilbert High, Jr. served as Lower Merion Township Solicitor during the 1990s zoning and litigation battles to increase gallery access.

Standards for Zoning Special Exceptions - 1957

A special exception use is permitted under local zoning laws, so long as specific conditions are met. In 1957, the Pennsylvania Supreme Court outlined the burden of proof for opponents of a special exception on health and safety grounds, and limited a zoning board's ability to deny a special exception on grounds such as traffic. Archbishop O'Hara's Appeal (Samuel High, Jr.)

Death Penalty Case - 1962

In 1962, the Pennsylvania Supreme Court upheld the jury's imposition of the death penalty in Commonwealth v. Smith. Gilbert High, Sr. was appointed by the Court to represent the accused. Trial was held in Gettysburg, because of the public knowledge in the Philadelphia area of the murder committed by Elmo Smith.

Injunctions Against Mass Labor Picketing - 1964

The Pennsylvania Supreme Court upheld an injunction against mass picketing, in one of the many decisions that differentiated between peaceful labor picketing (which cannot be prevented) and mass picketing with blockage of plant entrances, threats, and violence. Link Belt Co. v. Local #118 of American Federation of Technical Engineers (1964; Victor Roberts).

Fight over the Word "Quality" in Company Name - 1976

The Pennsylvania Supreme Court held that using the word "Quality" in a company's name was not an unfair competitive use, rejecting another business' attempt to prevent use of the word. The court's rationale was that "quality" was a descriptive term and did not denote any particular business or owner. Quality Weaving Co. v. Regan (1976; Victor Roberts).

Attorney's State Payments Do Not Bar Local Business Taxation - 1983

In 1983, the Pennsylvania Commonwealth Court allowed a township to impose business taxes on an attorney who had claimed that his state disciplinary board payments were a state license fee precluding local taxation. Meitner v. Township of Cheltenham (Gilbert High, Jr.)

Prohibition of Temporary Signs on Street Rights-of-Way - 1983

The Third Circuit affirmed a municipality's power to ban temporary signs on utility poles, street signs, or other public right of way structures. The court rejected the contention that the ban deprived citizens of free speech rights. The court held that the ban served important esthetic and traffic safety interests; regulated the time, place, and manner of speech, not the content of speech; and left the public with ample other ways to communicate. Frumer v. Cheltenham Township (1983; Gilbert High, Jr.).

Off-Campus Student Housing- In a series of decisions, the United States District Court rejected challenges to a Lower Merion Township ordinance requiring zoning approval for housing for college students in residential areas. Smith v. Lower Merion Township (1991-92; Gilbert High, Jr.).

Challenges to Congressional and Legislative Redistricting - 1992

In 1992 and 2002, several clients of the Firm challenged congressional and state legislative redistricting that divided townships and voting precincts rather than keep these areas in one district. These challenges were not successful but the cases anticipated the growing nationwide concern about gerrymandering rather than creating compact, contiguous districts. Mellow v. Mitchell (1992; Thomas Rees); Albert v. 2001 Legislative Reapportionment Commission (2002; Gilbert High and Thomas Rees).

Tax Exemption for Single Gender Independent Schools - 2001

In the 1990s the Pottstown School District challenged the real estate tax exemption of The Hill School, which was then a boys' school. (The school became co-educational in 1998.) The Pennsylvania Commonwealth Court held that state laws do not prohibit single gender schools from status as tax exempt purely public charities. Pottstown School District v. Hill School (2001; Thomas Rees).

Challenges to Contracts to Manage Municipal Facilities - 2003

The law generally bars governments from making contracts for governmental functions that last into the term of officials who have not yet taken office. The law allows contracts of this sort for proprietary functions. In several New York cases that the Firm handled, courts including New York's highest court held that multi-year contracts to manage a town golf course and its restaurant were permissible proprietary contracts. Karedes v. Colella and Karedes v. Village of Endicott (2001-2003; John Gallagher). The cases attracted significant media attention and led to a case in which the Federal Second Circuit Court of Appeals overturned the dismissal of one contractor's libel claim. Karedes v. Ackerley Group (2005; John Gallagher).

Bridgeport Fire Class Action - 2007

The Montgomery County Court of Common Pleas upheld the establishment of a class of plaintiffs whose businesses or property were destroyed in the Bridgeport fire. Professional Flooring Corp. v. Bushar Corp. (2003; Paul Bartle and John Gallagher).

Bar on Suing Private Organizations for Constitutional Violations - 2007

Federal civil rights laws prohibit state and local governments from firing employees in retaliation for exercising constitutional rights such as speaking on public issues. These laws do not bar the same actions by private employers. The line between public and private is not always clear; many private bodies are closely aligned with the government. In 2007, the United States District Court dismissed a civil rights claim by a private social service organization's ex-employee, who alleged wrongful firing after she objected to her employer's actions in building new offices. The court held that neither use of public funds nor provision of services to the disabled turned the organization into a state actor. Schneider v. The Arc of Montgomery County (2007; James Shrimp and Thomas Rees).

Immunity of Arbitration Associations and Arbitrators from Suit -2008

The New Jersey Appellate Division held that arbitration associations and arbitrators were immune from suit by a party who alleged that he was injured in an altercation during a break in the arbitration. The decision reinforced the doctrine of arbitral immunity as a form of judicial immunity from suit and from liability. Malik v. Ruttenberg (2008: Thomas Rees, James Shrimp, Richard Sokorai).

Bar on Re-Packaging Contract Claims as Fraud Claims - 2009

In two ways, Pennsylvania courts prohibit plaintiffs from re-casting claims for breach of contract as tort claims. These are the "gist of the action" doctrine, preventing parties from bringing tort suits where the essential claim is a commercial claim, and the "economic loss doctrine", preventing parties from filing tort claims where the only losses are economic losses from the alleged violation of a contract. The Federal District Court applied both doctrines in dismissing tort and commercial fraud claims against a national retailer in Febo v. Anderson Windows and The Home Depot (2009; Eric Smith).

Injunction against Franchise Termination - 2011

The Federal District Court enjoined a franchisor from terminating a pizza franchise for alleged failures to comply with the certain terms of the franchise relationship. The franchisor had used a mass e-mail rather than an individual notice to  inform its franchisees of new franchise requirements and of the franchisee's non-compliance. The Court thus ruled that the termination was premature and defective and would irreparably harm the business that had operated the franchise for the business owner's entire adult life. Grosso Enterprises, Inc. v. Domino's Pizza LLC (2011; James Shrimp).

No Duty to Disclose Internal Township Communications - 2011

Although the Pennsylvania Right to Know Law requires disclosure of public records, the Commonwealth Court held that the law does not mandate disclosure of  communications between members of an elected municipal board before a zoning hearing. The law excludes from disclosure the internal, pre-decisional communications between board members and township officials on the zoning application. Kaplin v. Lower Merion Township (2011; Gilbert High, Jr.).