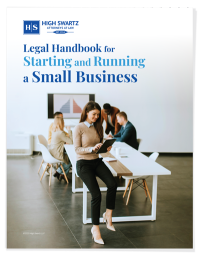 Free Download: Legal Handbook for Starting and Running a Small Business
Download our quick and concise handbook featuring the legal steps and strategies to accelerate your growth and company success.

Find a Small Business Lawyer You Can Trust
Maybe you're looking to start a business. Or perhaps you're already running one. One thing is for sure. It's full of challenges. But finding the right small business lawyers near you can help you get off to the right start. They can also keep your business from facing a lawsuit or misstepping government regulations.
Our small business lawyers can help you get off to the right start if you want to start or already run a business in Montgomery or Bucks Counties. Call our Norristown or Doylestown law offices.
As a Small Business Owner, You Have a lot On Your Plate.
Think about it.
You have or will have, an incredible amount on your plate. Payroll. Operations. Human Resources. Sales. How will you find the time to tackle the legal challenges inherent in these areas? Equally important, do you even have the expertise to address those challenges?
A small business lawyer can address your legal risks, tax implications, contracts, copyrights, trademarks, and real estate concerns.
For instance, nearly 60% of Pennsylvania townships and boroughs have zoning ordinances dictating permitted use. So your small business in Montgomery or Bucks County likely has different requirements than another across the state.
Moreover, the Pennsylvania Uniform Construction Code (UCC) mandates a statewide building code that more than 90% of the Commonwealth's municipal corporations enforce.
But, equally important, the right small business law firm can help form an exit strategy if you have a successful run. After all, that's the pot of gold at the end of the rainbow!
Small Businesses Routinely Fail
Not to scare you, but small businesses own close to a 50% failure rate. Roughly 20% fail within the first two years. Another 45% fail during the first five years of operation.
There are numerous reasons for those failures – poor business plans, over-estimating the market, poor hires, economic downturns, and more.
But lawsuits are another looming concern. For example, the Small Business Association (SBA) reports that 53% of small businesses deal with lawsuits annually. And those lawsuits cost a great deal. According to the SBA, litigation costs range from a low of $3,000 to a high of $150,000.
However, the costs go beyond legal fees. There's potential for lost income and customers, not to mention damage to your reputation. Establishing a relationship with a small business lawyer near you is essential as insurance against the risks.
A Small Business Lawyer Can Assist with Business Formation
You can't just throw out a sign and start a business. There are business formation issues that need to be addressed. For starters, you need to determine your structure. Common structures include:
Sole Proprietorships
Partnerships
Limited Liability Companies (LLC)
Corporations
Each has its own set of requirements. And several factors go into choosing the best business structure. For example, your business structure impacts day-to-day operations, taxes, personal liabilities, fund-raising, etc.
Moreover, you must conform to state laws regarding your structure to maintain its benefits and protections. Depending on your structure, a small business lawyer can assist with corporate governance relating to shareholder, director, or partner meetings.
Avoid Common Legal Issues with a Small Business Lawyer
Besides business formation, there are the day-to-day legal concerns your business faces. We already mentioned a 50/50 chance you'd face a lawsuit each year.
Most lawsuits stem from contract issues (37%). Indeed, some 12 million contract lawsuits are filed yearly against small businesses. Tax implications represent another prominent concern. After all, you must deal with federal, state, and local tax regulations.
But potential problems don't stop here. Other common legalities include:
Employment: Employees are critical to your success. But they're also one of your significant legal risks. So, it pays to work with an attorney to compile appropriate documentation for your small business. That starts with a policy manual governing discipline, overtime, discrimination, termination, and restrictive covenants. Pennsylvania also owns one of the strictest Wage Payment and Collection Laws (WPCL).
Licensing: The government has licensing restrictions for businesses. They vary based on size, type, and business location. For example, Montgomery or Bucks County licensing requirements may differ from those in Lehigh County. In addition, the goods and services you offer impact them. With proper licensing, you can avoid steep fines or closure.
Intellectual Property: It's essential to protect your intellectual property. However, it's also critical not to infringe on the IP rights of a competitor. Unfortunately, many startups fail to lock up appropriate copyrights and trademarks, leaving them susceptible to theft of that proprietary knowledge.
Workers' Compensation: Pennsylvania requires workers' compensation insurance for business owners with full- and part-time employees. Sometimes, independent contractors need insurance. But, more importantly, your employees can file a lawsuit in state or federal court if you fail to insure them.
The bottom line is that you face numerous legal concerns when running a small business. The fact is that 90% of all companies experience a lawsuit at some time in their lifespan. That's reason enough to arm yourself with an experienced small business lawyer near you.
The High Swartz Advantage for Small Business
You'll likely face budget challenges if you're a startup or established small business. So, it might seem practical to seek a "solo practitioner" or a small local law firm.
But, unfortunately, you can be hit with legal concerns from all sides – taxes, contracts, employees, clients, and governing bodies. A solo practitioner or smaller firm is ill-equipped to address specific issues.
We staff our law firm with lawyers having specific areas of legal expertise. So when you encounter a tax concern, we'll support you with a legal tax expert. In addition, with contract issues presenting such a substantial concern, we can also help your small business with contract specialists.
Despite our varied expertise, we have an SMB focus.
Law Offices Serving Bucks and Montgomery Counties
Our law offices are in Doylestown and Norristown, PA. But we serve clients throughout Pennsylvania, surrounding states, and nationally.
More importantly, independent services routinely recognize our lawyers as the best. For example, the Best Lawyers in America© 2023 edition included 16 High Swartz attorneys.
Call us when you need experienced small business lawyers, regardless of location.