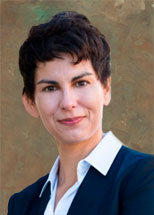 Full-service law firm grows estate planning practice with experienced attorney Mary R. LaSota
NORRISTOWN, Pa. (September 2017) – Full-service law firm High Swartz is pleased to announce that Mary R. LaSota has joined the firm. LaSota concentrates her practice on estate and business planning.
With more than 10 years' experience, LaSota has built a reputation for providing estate planning for families and offering legal solutions for startups and entrepreneurs across Chester, Montgomery, Delaware and Philadelphia counties.
"She continually strives to provide cost-effective, practical and timely services beyond the typical expectations of a law firm through innovation, communication and entrepreneurship - traits she will bring to High Swartz," said Joel Rosen, the Managing Partner of High Swartz.
LaSota holds a bachelor's degree in political science from Kutztown University. She began her legal career as a paralegal, a job she held while attending Widener School of Law. She also holds an LLM in Taxation from Villanova Charles Widger School of Law.
High Swartz LLP is a full-service law firm serving clients in the Delaware Valley and throughout Pennsylvania from offices in Norristown and Doylestown. Established in 1914, High Swartz serves the needs of businesses, municipalities, government entities, nonprofits and individuals. With offices in Bucks County and Montgomery County, the full-service law firm provides comprehensive counsel and legal support to individuals and business entities of all sizes across a broad spectrum of industries throughout Pennsylvania and New Jersey. For more information, go to www.highswartz.com.