During the month of February, High Swartz is hosting a clothing drive at our office that will benefit two local charitable organizations, Childway Pediatric Services and Impact Thrift Stores.  We welcome you to drop off your donations every Tuesday throughout February between the hours of 9 AM and 5 PM.  Tax documentation is available for all who donate.

Childway is a non-profit, inpatient medical facility located in Lansdale, PA, that specializes in supporting the needs of children with extensive medical issues. Childway has a personalized, home-like setting providing individualized care to meet the special medical needs of each child exclusively. Below are sizes of some of the children currently living at the facility:
Boy; 3+ months
Boy; 9 months
Boy; 36x32 pants; L men's shirts/top
Girl; girls' 7-8 pants; girls' 7-8 shirts/top
Girl; 4T or 5T
Girl; women's medium tops/dresses
Girl; girls' 16-18; size 5 shoes
Even if your child's closet does not have hand-me-downs in these sizes, children come and go, while others stay and grow up, so any clothing donation will help.  To learn more about Childway, please visit www.childway.org.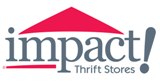 Impact Thrift Stores, Inc. is a 501(c)(3) non-profit organization financially supporting 16 locally-based charities that focus on the needs of families and children in crisis.  To learn more about Impact and the charities they support, please visit http://impactthrift.org/
Acceptable Donations:
Clothing, shoes, and accessories
Home furnishings and household items
Jewelry
Books, records, CDs, etc.