Highland Hall Senior Housing has been chosen as the seniors housing winner in Affordable Housing Finance magazine's 2019 Readers' Choice Awards.
The Highland Hall Complex, located in the Borough of Hollidaysburg, Blair County, Pennsylvania, was completed in January 2018 and provides 53 units of senior affordable housing to the residents of that community. The Development team was led by S&A Homes from State College, PA. The developer will be in attendance at the AHF Live conference in November, in Chicago, where they will formally receive their award.
"Developments like Highland Hall require a great team", relays Robert Poole, CEO of S & A Homes. "Led by Andy Haines, we had important political support from Former Congressman Bill Shuster, Governor Tom Wolf, State Representatives Judy Ward, Jim Gregory, and former State Senator John Eichelberger. This was a development everyone wanted to happen."
The design team was led by Upstreet Architects, Keller Engineers, with Arnold Heller and William F. Kerr of High Swartz as the legal counsel, Poole Anderson Construction as General Contractor, and NDC Management as the post construction property manager.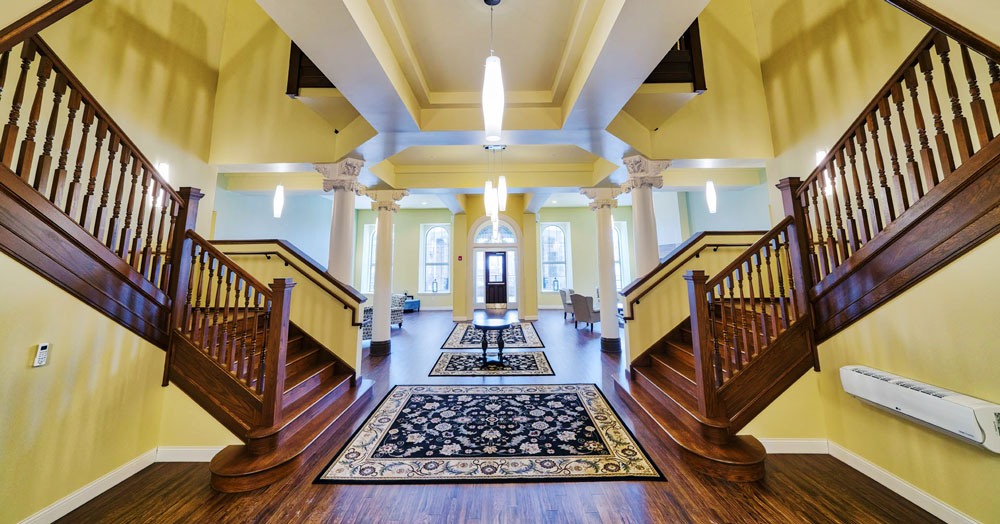 Highland Hall, originally built in 1867, is listed individually on the National Register of Historic Places as well as being a significant structure in the Hollidaysburg Historic District. The stone building is Italianate style with Classical Revival/Second Empire elements. The limestone for the building was quarried on the property. Situated near the top of a hill overlooking its 4-acre site, Highland Hall is architecturally dominant as well as being a prominent part of the community visible from many areas throughout the neighborhood. This site is so revered in the community it has its own zoning district.
Prior to its current restoration, the building was vacant for 15 years and was in a state of disrepair with serious structural problems. The property has served the community as a County Courthouse Annex and home to several schools including a radio school during World War II, a girl's school, and a seminary school. The previous property owner had requested a permission to demolish the property before being approached by S & A.
Numerous challenges were overcome so that S&A's vision for this building could be brought to fruition. In designing the structural changes, preservation of the buildings central historic façade was paramount while simultaneously constructing two new building additions that would complement the historic fabric of the original building. Financing the Highland Hall renovation required perseverance by the development team as it took three attempts over several years in a competitive financing environment to secure the capital needed to complete the restoration. The financing package for the redevelopment of Highland Hall was complex and involved multiple sources of capital. Pennsylvania Housing Finance Agency provided a low interest loan of $1.5 million and an allocation of Low Income Housing Tax Credits. These tax credits were in turn purchased by CREA LLC in exchange for equity to use in funding the complex. Citizens Bank provided a bridge construction loan and also served as a sponsor of an Affordable Housing Program funding via the Federal Home Loan Bank of Pittsburgh.
The complex leased up to full occupancy in 5 months and has maintained full occupancy ever since. The development is one of 22 developments with LIHTC by S & A Homes, which started developing affordable housing in 2000 and continues to this day, focusing on Pennsylvania and West Virginia.
This article was adapted from a press release by Gatesburg Road Development. Photo credits: Gatesburg Road Development.
For more information regarding Affordable Housing, contact our real estate attorneys here at 1.833.LAW.1914.