Full-service law firm in Bucks and Montgomery counties recognized for prowess in family law, municipal law, and land use and zoning litigation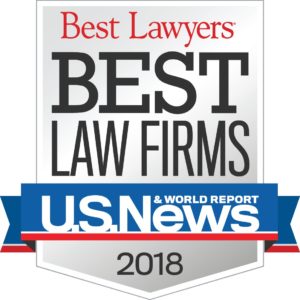 NORRISTOWN, Pa. (November 1, 2017) – High Swartz LLP, a full-service law firm with offices in Norristown and Doylestown, Pennsylvania, is pleased to announce that it has been named a "Best Law Firm" for 2018 by U.S. News – Best Lawyers®, achieving a Tier 1 ranking in the Philadelphia Metropolitan area in the practice areas of family law and municipal law, and a Tier 2 ranking for land use and zoning litigation.
To be eligible for a Best Law Firm ranking, a firm must have at least one lawyer included in The Best Lawyers in America©. Attorneys are neither required nor allowed to pay a fee to be listed. For 2018, 10 High Swartz attorneys were named among Best Lawyers:
Best Law Firm rankings are based on a rigorous evaluation process that includes the collection of client and lawyer evaluations, peer review from leading attorneys in their field and review of additional information provided by law firms as part of the formal submission process.
The highest honor, a Tier 1 ranking, is based on a firm's overall evaluation, which is derived from a combination of its clients' impressive feedback, the regard that lawyers in other firms in the same practice areas have for the firm, and information that the firm provided to Best Lawyers via a survey.
High Swartz LLP is a general practice law firm serving clients in the Delaware Valley and throughout Pennsylvania from offices in Norristown and Doylestown. Established in 1914, High Swartz serves the needs of businesses, municipalities, government entities, nonprofits and individuals. With offices in Bucks County and Montgomery County, the full-service law firm provides comprehensive counsel and legal support to individuals and business entities of all sizes across a broad spectrum of industries throughout Pennsylvania and New Jersey. For more information, go to www.highswartz.com.
# # #