Happy 90th Birthday, Marlyn!
Loyal, dedicated, and hard working are only a few ways to describe Marlyn Smith.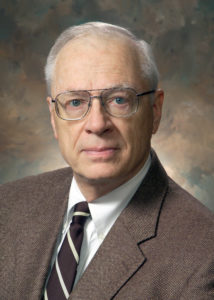 Marlyn joined the High Swartz law firm as an associate in 1956 when he began his work in estate planning, probate, and real estate law. In 1978, he bravely took on the responsibility as the first Managing Partner, a title which he held for fifteen years until 1993. After 1993, Marlyn served as a Senior Partner until 2004, after which he transitioned to Of Counsel—his current status with the firm.
During his time as Managing Partner, the Firm grew significantly. From 1989 to 1991, Marlyn supervised a total renovation of the two existing buildings, a newly acquired building, and upgrades to the Airy Street properties as well. The result is the office plan we have today, which has been instrumental in allowing the Firm to grow.
Marlyn has served the Firm and his community with skill and dedication. He has been counsel to and a board member of many organizations, particularly those connected with the Swedenborg Foundation and the Bryn Athyn Church. Marlyn has been an active member and usher of the Bryn Athyn Church for 50 years and was also an active singer in the church choir. He served 19 years on the Board of Directors of the Swedenborg Foundation and four years as President of the Foundation Board.
Marlyn and his late wife, Barbara, raised 5 wonderful children who presented them with 19 grand children, and 30 great grand children. Family pride extends to his very core, as well it should.
Marlyn's character, forged by loyalty, dedication, and hard work is fully displayed in a life of commitment to his family, his faith, and his firm. High Swartz has been greatly enriched by him, our colleague and our friend.
Marlyn Smith timeline:
1954—Marlyn graduates from Penn Law School
1955—Marlyn was admitted to the Bar
1954-1956—Marlyn clerked with Judge George Corson of the Montgomery County Court of Common Pleas
1956 (January)—Marlyn joined the High Swartz law firm as an Associate
1967—Marlyn was made Partner at High Swartz law firm
1978—Marlyn becomes the firm's first Managing Partner
1989-1991—Marlyn supervises renovations, making High Swartz a competitor for years to come
1993—Marlyn steps down as Managing Partner and continues work as a Senior Partner in the Firm
2004—Marlyn says, "I'll retire, but I won't stop working." Marlyn's work continues as Of Counsel.
2018—Marlyn Smith turns 90. Happy Birthday, Marlyn!