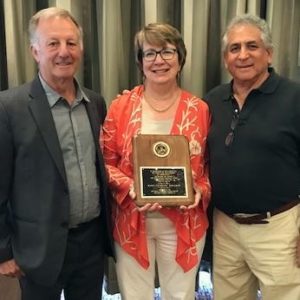 High Swartz partner, Mary Cushing Doherty was honored last week at the Pennsylvania Bar Association Family Law Section Summer with the prestigious Eric Turner Memorial Award.
The Eric Turner Memorial Award honors a lawyer who is dedicated to the practice of family law and who serves as a mentor and teacher to fellow lawyers. As part of the award, a $1,000 donation will be made to the Eastern Pennsylvania Chapter of the Leukemia & Lymphoma Society, a charity selected by Doherty.
Throughout her more than 35 years of practice, Doherty has been invested in the advancement of family law practice and women's issues in the practice of law. An active member of the legal community, Doherty has held numerous leadership positions in the PBA, including chair, officer and council member of the Family Law Section and chair of the Review and Certifying Board tasked with developing and implementing a certification process for various practice areas. Last year, she was recognized with a Special Achievement Award for her service in navigating a divorce reform bill through the General Assembly — one of the many contributions she has made since joining the section in 1979. Doherty is currently a member at-large of the Commission on Women in the Profession Executive Council.
Throughout her career, Doherty's work and service have been recognized with several awards, including the PBA Commission on Women in Profession 2012 Lynette Norton Award, 2012 Women of the Year list by The Legal Intelligencer, 2009 Woman of Distinction list by Philadelphia Business Journal, 2008 Frederick Cohen Award for Excellence in Teaching and 2006 Margaret Richardson Award.
Ms. Doherty has been a Course Planner and Lecturer for the American Academy of Matrimonial Lawyers since 1990 and for the Pennsylvania Bar Institute since 1985. She also has been a Lecturer for the Pennsylvania Bar Association Family Law Section and Montgomery Bar Association.
About High Swartz LLP: High Swartz LLP is a full-service law firm serving clients in the Delaware Valley and throughout Pennsylvania from offices in Norristown and Doylestown. Established in 1914, High Swartz serves the needs of businesses, municipalities, government entities, nonprofits and individuals. With offices in Bucks County and Montgomery County, the full-service law firm provides comprehensive counsel and legal support to individuals and business entities of all sizes across a broad spectrum of industries throughout Pennsylvania and New Jersey. For more information, go to www.highswartz.com.
# # #