Mary Cushing Doherty and Elizabeth Early talk executive compensation and custody case law updates at annual meeting
NORRISTOWN, Pa. (July 24, 2017) – Pennsylvania family law attorney Mary Cushing Doherty, a partner at High Swartz LLP and the chair of the firm's family law practice, and Elizabeth C. Early, an associate with the firm, recently acted as speakers during the Pennsylvania Bar Association Family Law Section's Summer Meeting, held July 13 to July 16 at the Omni Richmond in Richmond, Virginia.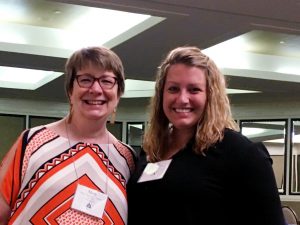 Many of the sessions at the conference focused on the financial implications of divorce, including financial issues that affect the baby boomer generation. Doherty participated in a program entitled "Conquering Executive Compensation," which explored the compensation packages being offered by the most financially sophisticated companies and discussed ways to identify, value, and distribute these complex assets during a divorce or custody action. Doherty was joined on the panel by family law attorney Mary Vidas and financial experts Sandra R. Klevan, CPA, and John Petrancosta, CPA.
Early helped close out the conference weekend with a case law update on custody during her program. In her practice at High Swartz, Early focuses her practice on divorce, custody, support, equitable distribution, pre and post-nuptial agreements and abuse matters.
A former member of the Board of the Pennsylvania Bar Institute and former Chair of the Family Law Sections of the Pennsylvania Bar Association and the Montgomery Bar Association, Doherty has more than 35 years of legal experience in the area of family law. She concentrates her practice on all aspects of marital dissolution and family law issues including divorce, child support, visitation, custody, spousal support and alimony, premarital agreement asset protection, complex property division and more.
High Swartz LLP is a full-service law firm serving clients in the Delaware Valley and throughout Pennsylvania from offices in Norristown and Doylestown. Established in 1914, High Swartz serves the needs of businesses, municipalities, government entities, nonprofits and individuals. With offices in Bucks County and Montgomery County, the full-service law firm provides comprehensive counsel and legal support to individuals and business entities of all sizes across a broad spectrum of industries throughout Pennsylvania and New Jersey. For more information, go to www.highswartz.com.
# # #