Mary Cushing Doherty has co-authored the LexisNexis Practice Guide to Pennsylvania Family Law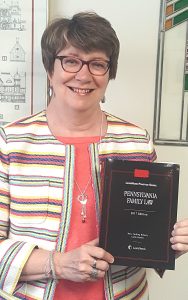 NORRISTOWN, Pa. (July 12, 2017) – Pennsylvania family law attorney Mary Cushing Doherty, a partner at High Swartz LLP and the chair of the firm's family law practice, has authored the 2017 edition of "LexisNexis Practice Guide: Pennsylvania Family Law" along with West Chester divorce attorney Carla Marino.
The book provides practical and insightful guidance on all aspects of handling a family law case for new and seasoned family law practitioners and  general practice attorneys who handle family law matters in Pennsylvania.
The guide also offers commentary, organizational suggestions, case summaries, and many forms. Each chapter identifies the key provisions of the relevant Pennsylvania statutes and the rules discussed in the chapter, so the attorney is well prepared for settlement or litigation.
The softbound book, which is updated annually, also is available in eBook form.
A former member of the Board of the Pennsylvania Bar Institute and former chair of the Family Law Sections of the Pennsylvania Bar Association, Philadelphia Bar Association and the Montgomery Bar Association, Doherty has more than 35 years of legal experience in the area of family law. She recently was honored with the Pennsylvania Bar Association's Special Achievement Award, in recognition of her tireless work to encourage passage of 2016 state legislation to reduce the waiting time for a no-fault, unilateral divorce from two years to one year.
Doherty concentrates her practice on all aspects of marital dissolution and family law issues including divorce, child support, visitation, custody, spousal support and alimony, premarital agreement asset protection, complex property division and more. She is a graduate of the University of Delaware and the Villanova University School of Law.
High Swartz LLP is a full-service law firm serving clients in the Delaware Valley and throughout Pennsylvania from offices in Norristown and Doylestown. Established in 1914, High Swartz serves the needs of businesses, municipalities, government entities, nonprofits and individuals. With offices in Bucks County and Montgomery County, the full-service law firm provides comprehensive counsel and legal support to individuals and business entities of all sizes across a broad spectrum of industries throughout Pennsylvania and New Jersey. For more information, go to www.highswartz.com.
# # #